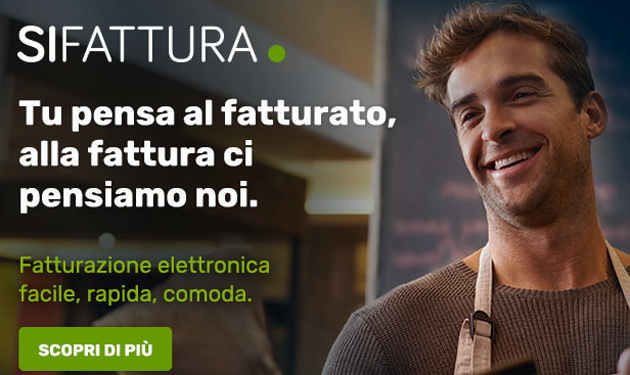 Italiaonline, the largest Italian internet company, presents Libero SiFattura, a service aimed at professionals and VAT numbers, offering them a complete administrative management that simplifies the exercise of accounting. Italiaonline is the ideal partner for Italian companies that want to undertake a path of digitization and growth, offering a useful and feature-rich tool.
Libero SiFattura includes essential functions such as generating, sending, receiving and storing electronic invoices, but goes further by completing the package with additional tools to facilitate the administrative management of the entrepreneur: issuing recurring invoices, automatic payment reminders, management and display of the cashed and the invoices still to be cashed, sharing the environment with the accountant, automatic production of the first note for the accountant, VAT forecasting to know in real time how much you will have to pay, cash flow to have visibility (also future) of liquidity on the current account on the basis of invoices issued and received with future due date.
The strong point of Libero SiFattura is its simplicity of use. The tool is designed to facilitate the user by minimizing possible errors with automatisms and utilities that make SiFinvoice a tool that can facilitate all those who manage a business on their own.
The offer is designed in a modular way to meet different needs, with a freemium product, Libero SiFattura Basic, complete with the main features and with two paid floors for more refined needs:
– The Lite plan (19€+IVA for the first year) also includes the automatic sending of electronic invoices through the Inland Revenue's exchange system and allows you to customize the templates of the documents sent and to remove references to Free SiFinvoice from the documents generated.
– The Pro plan (39€+IVA/per the first year) offers even more advanced features such as multi-user access to the environment shared with the accountant, creation of the first note for the accountant, schedule, statement of account, cash flow, etc..
"Once again Italiaonline is in the field in supporting the digital growth of companies, simplifying their work as much as possible – says Domenico Pascuzzi, Director of Marketing Consumer and Digital Properties of Italiaonline – Libero SiFattura is a tool easy to use, but at the same time very effective, created to allow professionals and small entrepreneurs to focus on the core business of their business, without wasting time with administrative procedures: Libero SiFattura takes care of those.
(N.B. This is a translation of the Italian press release)