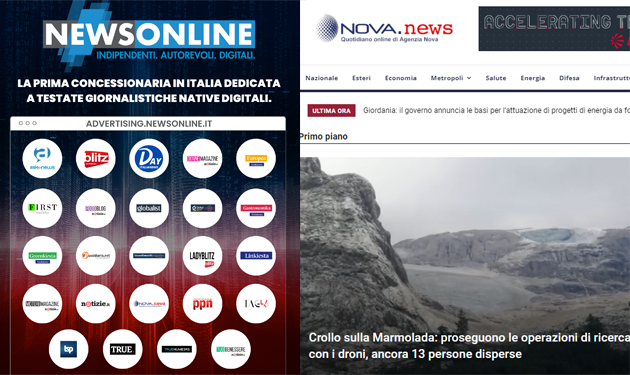 Agenzia Nova, a company specializing in service information, journalistic, editorial and communication services, joins the network of Newsonline, the business unit within Italiaonline and exclusive concessionaire of the sale of advertising space for the most relevant pool of digital native sites in the news&information category.
Agenzia Nova, published by Agenzia Nova Srl, was founded in 2001 by Fabio Squillante, who also holds the general management position. Editor-in-Chief is Enrico Singer. The central editorial office is in Rome; local editorial offices are located in Milan and Naples, while a network of correspondents scattered throughout the country ensures coverage throughout Italy. Through a vast network of collaborators, moreover, the agency covers all continents and guarantees high-quality content in real time. Having become, in less than 20 years, Italy's leading news agency on international affairs, Nova is also a leader in regional and local news, particularly with regard to the metropolitan cities of Rome and Milan.
In addition to Agenzia Nova, the following publishers with their respective titles are part of Newsonline:
– Askanews S.p.A., with Askanews.it (editor Gianni Todini) .
– SEM S.r.l., with the websites Blitzquotidiano.it (editor Alberto Francavilla) and Ladyblitz.it (editor Claudia Montanari)
– AL Iniziative Editoriali S.r.l. with Firstonline.info (Founder Ernesto Auci, director and co-founder Franco Locatelli)
– Globalist.it and in addition Giornaledellospettacolo.it (director Gianni Cipriani) and PPN (director Maurizio Pizzuto)
– ilSussidiario.net S.r.l., with ilSussidiario.net (director Luca Raimondi)
– Linkiesta S.r.l., with Linkiesta.it (director Christian Rocca) and the vertical channels, Europea, Gastronomika, Greenkiesta, Il lavoro che verrà and Milano
– Contents Media, with Notizie.it (director Alessandro Plateroti) and the channels DonneMagazine.it, Foodblog.it, Tuobenessere.it and Investimentimagazine.it
– Tagfin S.r.l., with Tag43.it (director Paolo Madron)
– Inpagina S.r.l., with TrueNews.it (director Fabio Massa)
– FormatLab with Truenumbers.it (director Marco Cobianchi)
The entry of Agenzia Nova, further expands and enriches the Newsonline project, created to value the work of quality online publishers, establishing a direct dialogue with each of them, in order to create the most important news hub of digital advertising in the country.
"Newsonline is enriched, with Agenzia Nova, by a new prestigious partner whose nature as a national and international news agency further contributes to quality news coverage: an indispensable peculiarity of our advertising concessionaire. From the beginning of 2022, the aggregate of Newsonline's 14 titles and 10 publishers (Audiweb's CRU – Custom Roll-up – Newsonline) positions our offering firmly in the top ten of news properties, including financial ones. This confirms the extent to which the Italian readership regularly relies on Italian digital native news publishing, seeking viewpoints and insights into the news that go beyond the 'usual' headlines. On average, more than 1.3 million readers per day, in the first quarter of 2022, inquired about one of the newspapers in our hub," said Luca Paglicci, Head of Newsonline.
"We carefully chose the advertising partner, an aspect we consider strategic for Agenzia Nova's web presence. In Newsonline we found the professionalism, attention and support we were looking for. We are confident that together we can embark on a path of growth and progressive affirmation." This is what Fabio Squillante, founder and General Manager of Agenzia Nova, says.
(NB This is a translation of the Italian press release)