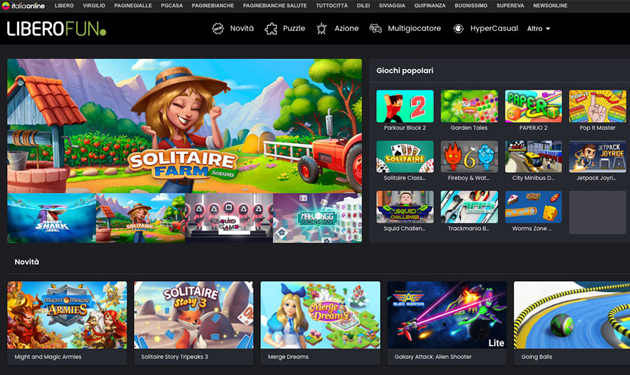 Italiaonline, the largest Italian internet company, owner among others of the brand Libero.it, announces the launch of the new Libero Fun, the portal with hundreds of games, totally free to play.
The new platform has been created in partnership with Azerion, the digital entertainment and media platform that, thanks to its technological solutions for gaming content and advertising, has guaranteed access to an accurate selection of games. In fact, a real catalog of hundreds of titles has been created and is constantly evolving, including the types of games most appreciated by Italians through Azerion's best known partners including Ubisoft, Microsoft Studios and HalfBrick Studios.
The novelty of the portal is the total free accessibility of its exclusive contents that will replace the previous subscription model. There will be no more payments and registrations from users, instead video content and banner ads will be added.
The platform will be available in bilingual mode (Italian and English) with videos dedicated to instructions and tutorials. The service will be activated in free mode and will give access to the entire catalog to play through all browser devices, on PC, tablet or smartphone, wherever and whenever you want.
The catalog has been structured diversifying the categories of games for all age groups, paying close attention to the needs of the Italian public thanks to the consolidated experience of Italiaonline that for years is committed to analyze and satisfy the tastes of its users. There will be games of cards and checkers, puzzles, solitaire but also multiplayer and especially the most popular games of the moment.
Within the portal Libero Fun users will have the opportunity to have fun thanks to the most famous casual games of Azerion, available for free at any time and from any device.
Domenico Pascuzzi, Marketing Director Publishing of Italiaonline, says: "The gaming sector continues to record very positive numbers and growth, in terms of turnover, number of players and time spent. The prospects for development are very interesting and I am referring to all the applications of virtual and augmented reality, the suggestions of the metaverse and new play-to-earn business models. The new LiberoFun is a totally free on-demand gaming service that can count on a very rich catalog of titles, including great classics and the latest in casual gaming. We have chosen an advertising-based model because of its scalability and because it lends itself very well to an immersive and engaging user experience, which is one of the distinctive features of gaming content".
Carlo Poss, Country Manager Azerion Italy says: "We are excited about the activation of the new LiberoFun – Free To Play portal. The partnership further consolidates our collaboration with Italiaonline and strengthens our positioning in both the gaming and digital advertising sectors thanks to Azerion's proprietary technology and monetization platforms".
(NB This is a translation of the Italian press release)