Help those looking for you to find you
With Italiaonline's digital presence solutions, you can manage your company's entire digital presence from a single point: those looking for you will always find correct and updated information to contact you, anywhere.
How does your company present itself online?
Check if your company always appears on all the major websites, search engines, social networks and navigation systems with the correct information.
An always-impeccable digital presence
The first step for growing your online business is to make sure you are always present, and with the right data, in the main places where people look for information: websites and search engines, directories, social networks, maps and with navigators.
How to proceed? Simple, with a unique tool for ensuring that your company's data is always up-to-date and automatically synced across all the web's main contact points.
Where online presence is important, your company is there.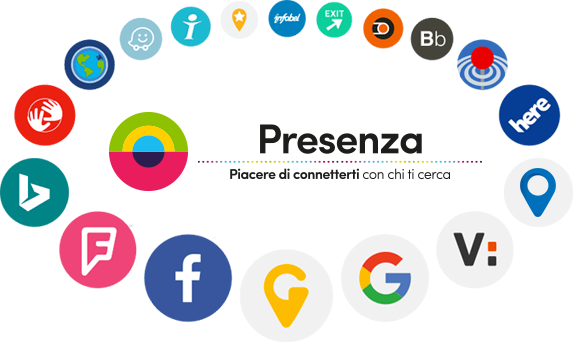 With Italiaonline your online presence on a broad and comprehensive digital network is guaranteed and always correct:
Search engines like Google and Bing
Social networks like Facebook and Foursquare
Directories and mobile apps like AroundMe, Cylex and iGlobal
Maps and navigation systems like Google Maps, TomTom and Waze
Italiaonline network: Virgilio Città, Pagine Gialle, Pagine Bianche, Tuttocittà.
Information that is always correct and up-to-date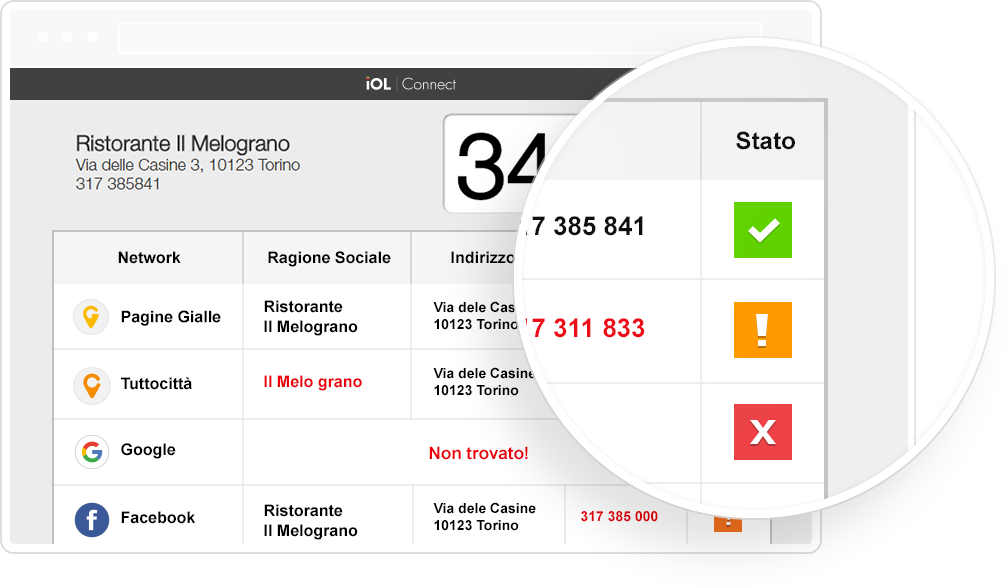 We verify that your company's online information is present, accurate and synced everywhere.
If the information is missing, we create it.
If it's wrong, we correct it.
If it's right, we will keep it up-to-date.
We basically create a file for your company that includes all the useful information a user might search for:
Company name
Address and contact info
Business hours
Logo and photogallery
Company description
Every update to your company's information will automatically appear everywhere, offering you online visibility and availability in a coordinated and timely manner.
No more missed opportunities for missing or wrong information: the more people find you online, the more people will come to visit your company in person!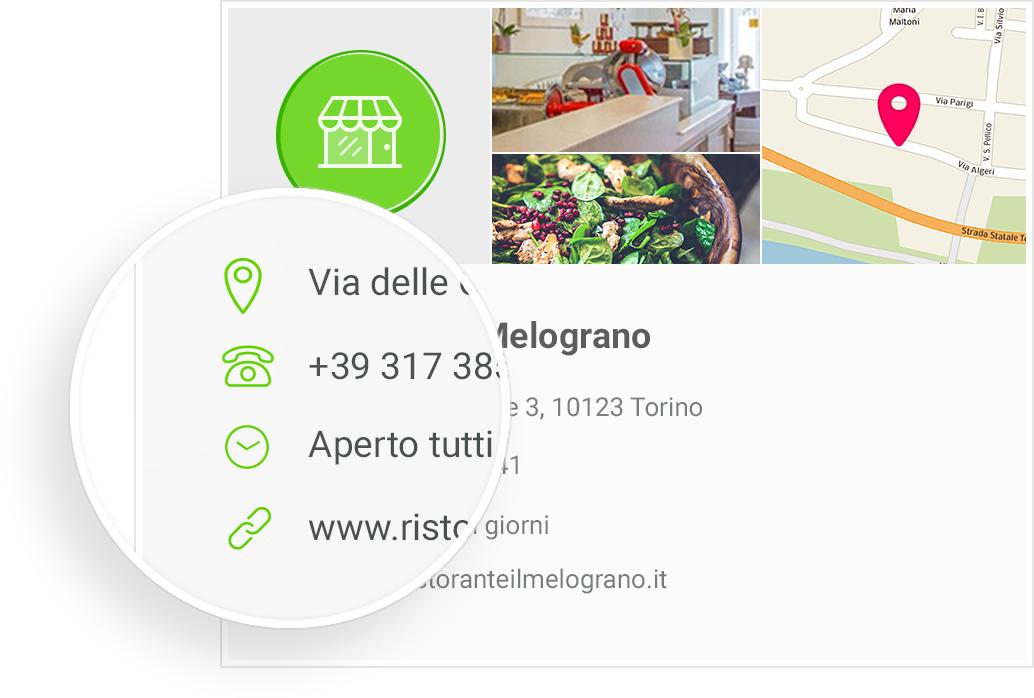 Premium services
If you want to make your digital presence even stronger and more complete, you can take advantage of our services for managing your Facebook page, virtual tour on Google Street View and publication on the international directory platform, Europages

Facebook Presence
We create an editorial content plan for you and we take care of your fan page's look on Facebook, according to your needs and tastes. So your Facebook page will always be alive, active and in touch with your customers.

Google Street View
Bring your potential customers into your company – wherever they are, 24 hours a day, 7 days a week – through the innovative virtual tour on Google.

Europages
Do you work in the B2B market? Broaden your horizons abroad, too, and be chosen by customers from all over the world! Your company will have multilingual listings on the most widely used international platform for searching for products, services and suppliers.
Are you interested in our products and services?
Call the toll free phone number 800 011 411 or send us your request by filling out the form for a free quote and we'll get back to you as soon as possible.
Send request