The biggest Italian internet company
Who whe are, what we do and why.
The top digital group in Italy
Email provider? Web advertising sales agency? Digital communication agency?
Italiaonline is all of this together, because we truly act full circle in the digital world, both in what we do and who we talk to.
On the one hand we own the most visited portals and the most widespread email addresses and we are the market leader for directories in Italy: this is how we deliver content and services to millions of Italians each day.
On the other hand, we offer a wide range of digital solutions, from online advertising to web design and web marketing: this is how we build and boost the digital presence of thousands of Italian companies.
This is why we are the top Italian internet company. Even the numbers speak for themselves.
Million Unique Users per month*
Billion Impressions per month
Thousand Business customers
* Source: Audiweb View, powered by Nielsen, TDA February 2019 / ** Source: Internal data, 90-day active inboxes – February 2019
Portals and Email
We've got the most visited portals and we are the largest email provider in Italy: Libero and Virgilio.
Directories and utilities
Paper, web and voice: through Pagine Gialle, Pagine Bianche, Tuttocittà, 89.24.24 and 12.40 we deliver daily services to citizens and companies.
Digital Advertising
We're the web advertising sales agency with the biggest Italian audience, offering our customers the best online visibility ever.
Media Agencies
With over 900 sales representatives nationwide, we own the widest Italian network of digital consultants dedicated to large and small businesses.
Mission: passion for business.
The competitiveness of Italian companies, both large and small, which represent Italy's real economic backbone, depends on their digitalization.
Italiaonline's mission is to help businesses in this challenge, thus supporting the country in its digital growth. Our mission is demanding and forward-looking, but we have all the resources and determination necessary to accomplish it.
Because we're the biggest Italian digital group. Because we're the market leader in digital advertising for large accounts and local marketing services for SMEs. And because we combine creativity with technology, a combination that has projected our company towards the future and innovation.
There is a great company for every company: our commercial.
All the values embodied in our logo.

The new Italiaonline was formed by the merger of Italiaonline S.p.A. into SEAT Pagine Gialle S.p.A., effective from June 11, 2016.
Italiaonline is directly controlled by Libero Acquisition S.à.r.l. – a Luxembourg company headed by the Sawiris family – and by the funds of GoldenTree Asset Management Lux S.à.r.l., GoldenTree SG Partners L.P., GT NM LP, San Bernardino County Employees' Retirement Association and GL Europe Luxembourg S.à.r.l.
Italiaonline holds a 100% stake in Moqu Adv S.r.l., Digital Local Services (68 active territorial units established as single shareholder limited liability companies directly owned by Italiaonline S.p.A.), BIZPAL S.R.L., Consodata S.p.a. and Couponing Italia S.r.l. (the latter in liquidation). Italiaonline also holds a 20% stake in Gold Five S.r.l. (in liquidation).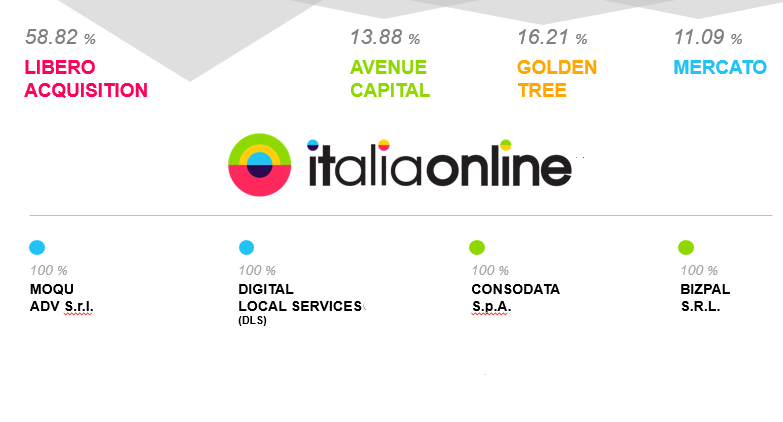 Our management