Society
We want to promote the digital growth, for businesses and young people.
As the leading digital group in Italy, Italiaonline offers a daily range of products and services fitting to the nascent needs of Italian society and the whole national economic fabric. For this reason, the Group's primary goal is to design and market innovative and smart solutions in order to build and promote the digital presence of thousands of Italian companies, small and large ones, and to offer content and services to millions of Italians.
Also within its own Code of Ethics, the Company declares its intention to favour and stimulate the utmost attention, willingness and respect towards customers through the provision of quality services at competitive conditions.
Support requests managed in one working day
Millions of unique users**
*Number of active customers, at 31 December 2018, 12M rolling.
**Source: Audiweb View 2.0, powered by Nielsen, TDA – Total Digital Audience | MAUs – Monthly Active Users, December 2018.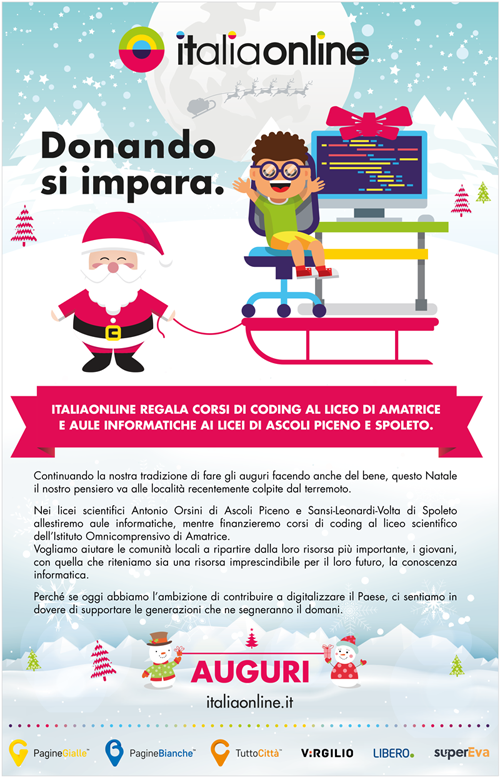 As the leading Internet company in the country, Italiaonline has always supported the digital training of young digital natives (so-called "millennials") with fruitful cooperation with schools, which began in 2014 with the "Class Gifts" project that involved equipping the IT classrooms of three high schools par excellence in the cities of the company's historical offices: Milan, Pisa and Rome.
In 2015 Italiaonline continued with "Operation Code Santa Claus", funding coding classes at the same schools as well as at a school in Turin.
In 2017, for the "Donando s'impara" (You Learn by your giving) project the Company donated computer labs and coding courses to three high schools in the areas of central Italy which were most affected by the 2016 earthquake, with particular attention to the epicentre areas (Amatrice, Spoleto, Ascoli Piceno).
The relationship with schools continued in 2018 too: four computer rooms were donated by Italiaonline to as many institutes in Milan and Turin. The schools are currently being identified in collaboration with the respective municipal councillors and will also include 40 desktop computers and 40 tablets to be reconditioned. The donation was also featured in the Christmas cards which Italiaonline sent to its customers, suppliers and partners, whose slogan reads: "So that those who will be great tomorrow, can have the means to a better future starting from today".