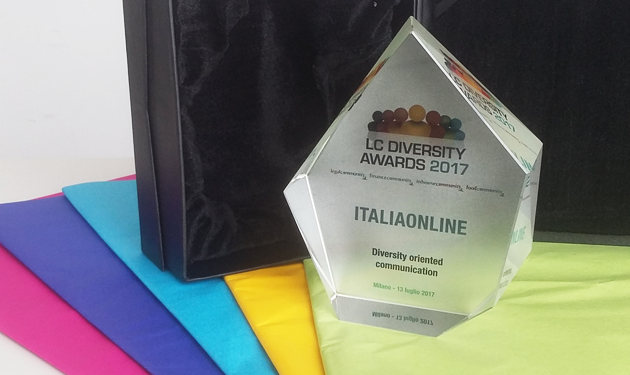 Italiaonline è tra le aziende premiate ai Diversity Awards 2017, iniziativa organizzata da Legal Community pubishing group che premia le aziende e le istituzioni impeg​nate nella valorizzazione delle diversità, con il patrocinio del comune di Milano. Italiaonline si è aggiudicata il premio nella categoria "Diversity oriented communication", con la seguente motivazione:
​L'azienda è impegnata nel rispetto della diversità a 360°. Tra le attività di comunicazione, sia interna che esterna, fortemente 'women oriented', possiamo citare la campagna di recruiting JobRapido e la campagna 'stop alla violenza sulle donne'. Inoltre l'azienda ha pianificato attività di comunicazione a sostegno delle vittime del cyberbullismo e campagna radio e web gayfriendly.​
La serata di premiazione si è svolta il 13 luglio a Milano.
​Di seguito tutti gli altri vincitori e le motivazioni. ​
FAMILY CARE Google Italy
L'azienda sviluppa programmi tesi ad aumentare la consapevolezza sull'importanza della diversity; recentemente ha esteso all'Italia una nuova paternity leave policy che vuole garantire ad entrambi i genitori le stesse possibilità, senza differenza di genere, al fine di disincentivare gli stereotipi.
DIVERSITY MANAGEMENT IBM Italia
L'azienda considera la diversità valore fondante poiché generatrice di innovazione e creatività. Focalizza il proprio impegno su: -valorizzazione della diversità di genere e generazionale -progetti per integrare persone con disabilità nel mondo lavorativo e sociale -iniziative per agevolare l'integrazione multiculturale – campagne in ambito dei diritti LGBT.
INTEGRAZIONE CULTURALE Barclays Bank
L'azienda con il programma 'Migrant Trainer' supporta i migranti del Senegal e di altri paesi nello sviluppare il loro percorso formativo, aiutandoli ad acquisire competenze e a rafforzare le loro conoscenze per gestire al meglio i propri progetti e le proprie iniziative imprenditoriali.
DIVERSITY & INCLUSION ING Bank
Per garantire un'ambiente di lavoro sereno e produttivo, l'azienda organizza iniziative sui temi di gender diversity e leadership inclusiva, basandosi sul principio che la diversità è un valore e una preziosa risorsa.
DIVERSITY NO PROFIT OF THE YEAR Bet She Can È una fondazione che offre a bambine e ragazze, tra gli 8 e 12 anni, strumenti per sviluppare la consapevolezza di sè e delle proprie potenzialità; con i suoi progetti punta a sensibilizzare le famiglie e le istituzioni per generare un cambiamento di mentalità e modelli sociali.
WORK LIFE BALANCE Astrazeneca La diversity è tra le priorità della people strategy aziendale. L'azienda organizza eventi per supportare donne e uomini sul tema work life balance. Un focus particolare è dedicato alla donna, in equilibrio constante tra esigenze familiari e impegni lavorativi.
VALUE FOR DIVERSITY The Boston Consulting Group Con il loro team di lavoro cross – functional l'azienda focalizza i suoi sforzi sulla diversity negli ambiti LGBT e Women, garantendo un'ambiente favorevole per la crescita professionale e individuale di tutti i talenti.
EQUAL OPPORTUNITY & DIVERSITY Evan Wolfson, Presidente e Fondatore Freedom to Marry È stato il fondatore e presidente dell'organizzazione che ha ottenuto negli Stati Uniti il riconoscimento del matrimonio tra persone dello stesso sesso. E' tutt'ora impegnato su questa e altre battaglie civili anche fuori dagli Stati Uniti.
PREMIO DENTONS Cristina de Haag, Head of Legal Capital Markets & Italy Country Head di Borsa Italiana. Ha saputo esprimere nella professione legale uno stile autentico e personale. La sua determinazione, la concretezza e la sua capacità di interpretare e risolvere i problemi fanno di lei un esempio di leadership femminile e un punto di riferimento per le altre donne.